Canon Stock: Eyeing Up A Swing Trade To The Upside (NYSE:CAJ) – Seeking Alpha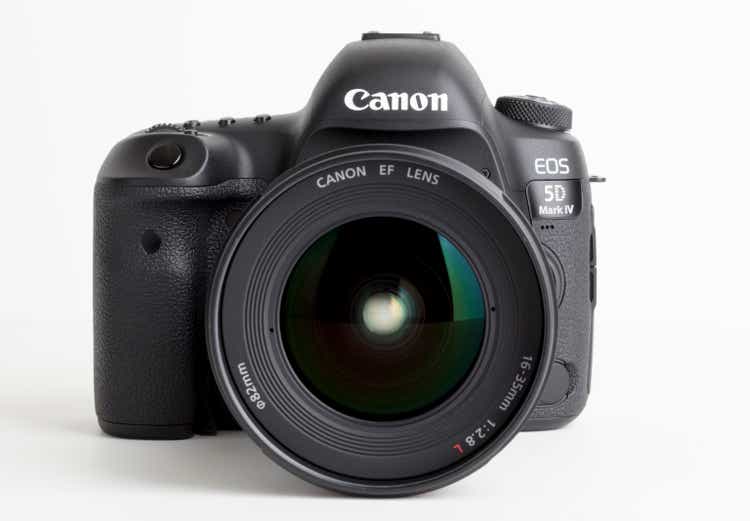 Intro
If we look at a technical chart of Canon Inc. (NYSE:CAJ), we can see the shares have now dropped to oversold conditions and also a bullish divergence has presented itself in the RSI momentum indicator. Furthermore, the moving averages which make up the MACD indicator continue to converge as we can see through the rising histogram. Although shares have yet to recover their 200-day moving average, we believe a bounce is on the cards here for the following reason.
At the end of the day, Canon's price action on its associated technical chart paints a picture of the psychological nature of the market. Human psychology rarely changes, which is why we believe history repeats itself in stocks such as Canon in the financial markets. Suffice it to say, given how participators have acted when Canon shares have dropped to oversold levels (as we have at present), this very same psychology leads us to believe that a bounce should take place sometime soon.
However, to ascertain whether this pending bounce has the capacity to result in a long-term sustained rally, we need to see how money has been flowing through the company and if these trends are indeed bullish. A good way to do this is to see how strong Canon's dividend is at present. Trends in areas such as EBIT growth, shareholder equity growth, and free-cash-flow growth can give us insights into whether the payout can indeed grow meaningfully from present levels.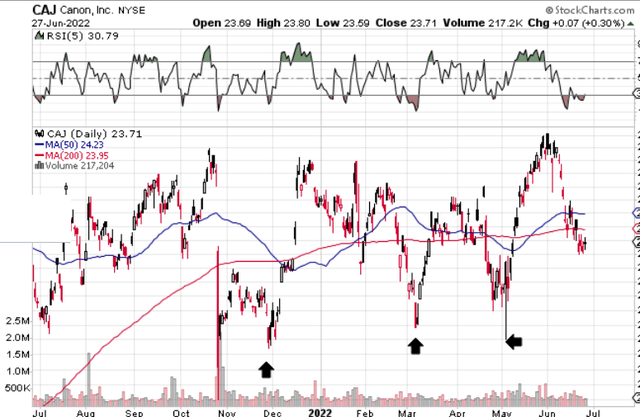 Dividend Yield
Canon's dividend based on an annual payout of $0.86 per share currently comes in at 3.63%. Although Canon's present yield trails the company's 5-year dividend yield of approximately 4%, it remains well above the median yield in this sector which comes in at around 1.46%. In the high inflation environment, we have at present, a 3.6%+ return on our investment will not be enough which is why we need to look at the stock's "total return" potential going forward.
Dividend Growth
Although Canon's dividend is up over 25% over the past 12 months alone, growth rates have been patchy as we can see from the 3-year & 5-year averages (-15.9% & -9.6% respectively). Growth is important as it protects against purchasing power erosion through inflation. Furthermore, it fosters confidence with respect to future earnings growth. Suffice it to say, investors will be hoping the semi-annual hike to $0.45 at the back-end of last year is a sign that the fundamentals are improving which will facilitate share price growth.
Dividend Pay-Out Ratio Ramifications
The cash dividend payout ratio is the single most important metric when looking at the sustainability of Canon's dividend. At present, it comes in at 68.1% over a trailing twelve-month average which is in line with historic norms for this stock. Although free cash flow per share of $1.21 over a trailing average more than covers the dividend, Canon's growth profile has been worrying investors up to this point. We state this because the forward free cash flow growth rate comes in at only 6%, which may mean the payout ratio may come under pressure if indeed this projection is not met.
Interest Bearing Debt
However, followers of our work will be aware of the fact that we believe growth metrics many times are overrated especially if the company in question is working off a sound financial base. What we mean by this is that shareholder equity of approximately $24.4 billion continues to dwarf the company's total amount of liabilities ($14.35 billion) on the balance sheet. Out of these liabilities, interest-bearing debt only makes up approximately 13% of the company's equity. Moreover, the trailing interest coverage ratio comes in at 432. Suffice it to say, even if growth disappoints in upcoming quarters, Canon's dividend is easily affordable due to having a solid balance sheet, resulting in low-interest expense on the company's earnings.
Conclusion
Once we get a confirmed swing low here, we should see shares of Canon rally until we at least get to oversold levels once more. Whether shares have the capacity to break out above overhead resistance remains to be seen at this point. Given the trends we see with respect to the dividend, downside risk looks rather small in this play which will enable us to place our stop-loss a nice distance below the lows once we get a confirmed swing low. We look forward to continued coverage.