FOREX.com vs. Robinhood: Which Is Right for You? | The Ascent by Motley Fool – The Motley Fool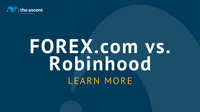 FOREX.com and Robinhood focus on different markets. As a result, the evaluation criteria for fees between both brokers are different. Robinhood offers zero-commission trading for stocks, options, ETFs, and cryptocurrencies. Investors can opt for a Robinhood Gold account for a monthly $5 fee. Gold members get access to margin trading (including $1,000 of interest-free margin), access to larger deposits, and access to Morningstar stock research reports.
FOREX.com does not charge a fee, but instead charges a spread or commission based on trading volume. Pricing is based on the type of account a trader has with FOREX.com. For currency pairs, the spread is the difference between the bid and ask rates when trading currencies.
The bid-ask spread is the difference between the prices at which a broker buys and sells a currency. Traders looking to sell are quoted the bid price, and a trader looking to buy is quoted the ask price. Spreads vary based on the currency, the time of day, economic conditions, and the broker. Pricing is transparent and the live spreads are available on FOREX.com.