Insider Selling Explained: Can it Inform Your Investing Choices? – MarketBeat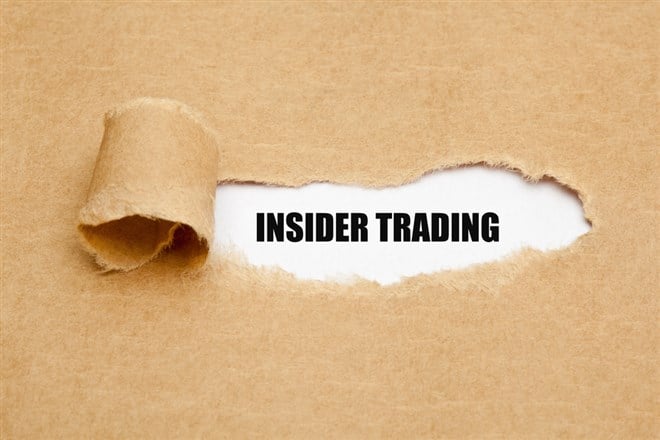 Insider selling occurs in three general steps:
A director, officer or executive (CEOs, CFOs or COOs) knows information about the company they work for, which is not publicly available.
The officer or director then sells shares of the company stock based on the information they know based on their position with the company.
As a regular investor, you can use insider selling to frame your investment choices. Executives' actions can give you clues into what might happen with the company's stock.
Insider selling is not the same as insider trading. Insider trading is an illegal practice that occurs when corporate insiders make illegal stock purchases based on information that is not available to the greater public.
We'll take a closer look at insider selling, how to identify when insider selling will occur and whether or not monitoring insider selling is a good investment strategy. We'll also go over some top insider selling stocks and how to invest in insider selling stocks. By the time you're done reading, you'll have a better understanding of how insider selling might work to your advantage in your investing journey.
What is Insider Selling?
Insiders are those in management, officers or other beneficial owners with more than 10% investment in company securities, according to the U.S. Securities and Exchange Commission (SEC).
Put simply, insider selling means that company officers sell company securities. Insider buying is exactly the opposite — company officers buy company securities. If company insiders invest in the company, it's a good sign that the stock is or will become bullish, that the company stock will go up. On the other hand, if insiders sell, it could be a bearish sign and that stock prices may fall.
To prevent insider trading, insiders must file SEC forms every time they buy or sell shares to show that they will not illegally benefit from what they know based on their high position in the company. They must also hold onto their investments within six months of their purchase.
Note that insider selling doesn't necessarily automatically indicate that there is a problem with the company or the company stock. However, if company insiders dump a whole bunch of shares, that's a possible indication that something negative is coming down the pike for the company.
How to Identify Insider Selling
Again, the Securities and Exchange Commission (SEC) requires companies to file reports which can show regular investors clear evidence of insider activity.
Forms DEF 14A, Schedules 13D and 13G and Forms 3, 4 and 5 on the SEC's EDGAR database or the SEC Info Insider Trading Reports will detail the type of insider activity that can help you identify insider buying and selling. Let's take a look at each form:
Wading through these forms for multiple companies can seem challenging. Luckily, you don't have to rely entirely on these forms. The MarketBeat Insider Transactions Screener gives you an understanding of insider trading activity by publicly traded companies.
Are Insider Selling Stocks a Good Investment?
Insider selling can help you identify the right types of investments for your needs. However, it also comes with certain risks. The biggest risk is reading too much into insider selling. Most of the time, insider activity isn't indicative of huge changes and even more significantly, insider selling doesn't mean very much.
Unfortunately, investors can incorrectly interpret that selling means that company executives see red flags within the company. In reality, the sale could mean that the insider already owns quite a few assets and has sold just a handful.
Top Insider Selling Stocks
Let's take a look at a few insider selling stocks you may want to consider investing and trading as of the date of this article's publication.
American International Group Inc. (AIG)
American International Group Inc. (NYSE: AIG), headquartered in New York City, offers insurance products for commercial, institutional and individual customers domestically and internationally. The company provides the following:
General liability
Environmental
Commercial automobile liability
Workers compensation
Casualty
Crisis management insurance products
Commercial, industrial and energy-related property insurance
Aerospace insurance
Political risk insurance
Trade credit insurance
Portfolio solutions insurance
Crop insurance
Marine insurance
The company also offers professional liability insurance products for a range of businesses and risks, including the following:
Directors and officers
Mergers and acquisitions
Fidelity
Employment practices
Fiduciary liability
Cyber risk
Kidnap and ransom
Errors and omissions insurance
Personal auto and property insurance (for auto, homeowners, umbrella, yacht, fine art and collections)
Voluntary and sponsor-paid personal accident
Supplemental health products
Extended warranty insurance products
Travel insurance products
The life and retirement segment insures individuals by offering variable annuities, index and fixed annuities and retail mutual funds and financial planning and advisory services. It also offers record-keeping, plan administrative and compliance services as well as term life and universal life insurance and more.
Constellation Brands Inc.
Constellation Brands Inc. (NYSE: STZ) produces and sells beer, wine and spirits in the U.S. and worldwide. The company sells the following beer brands:
Corona Extra
Corona Premier
Corona Familiar
Corona Light
Corona Refresca
Corona Hard Seltzer
Modelo Especial
Modelo Negra
Modelo Chelada
Pacifico
Victoria
The company manufacturer and sells wine under the following brands:
7 Moons
Cook's California Champagne
Cooper & Thief
Crafters Union
Kim Crawford
Meiomi
Mount Veeder
Ruffino
SIMI
The Dreaming Tree
Charles Smith
The Prisoner Wine Company
Robert Mondavi
My Favorite Neighbor
Schrader
It also creates and sells spirits to wholesale distributors, retailers, on-premise locations and state alcohol beverage control agencies including the following brands:
Casa Noble
Copper & Kings
High West
Mi CAMPO
Nelson's Green Brier
SVEDKA
Option Care Health Inc.
Option Care Health Inc. (NASDAQ: OPCH), headquartered in Bannockburn, Illinois, offers home and alternate site infusion services such as anti-infective therapies, home infusion services to treat heart failure, home parenteral nutrition and enteral nutrition support services for stroke, cancer and gastrointestinal diseases. The company also provides immunoglobulin infusion therapies and treatments for chronic inflammatory disorders (Crohn's disease, plaque psoriasis, psoriatic arthritis, rheumatoid arthritis, ulcerative colitis and other chronic inflammatory disorders). The company also offers treatments for amyotrophic lateral sclerosis and duchenne muscular dystrophy and infusion therapies for bleeding disorders and other conditions.
How to Invest in Insider Selling Stocks
It might seem weird to consider investing in stocks that company executives are selling. However, it's important to remember that it's not always appropriate to dump stocks that insiders sell. In fact, you might want to invest in them anyway.
Step 1: Do your research.
Take a look at the forms on the SEC's EDGAR database or look at the MarketBeat Insider Transactions Screener to learn about various actions taken by company insiders. It's a great first start to identify the stocks that are going up and down. Take a look at a wide swath of companies in order to pinpoint the right investing option for you.
Step 2: Identify the method you want to use to trade or invest.
How do you want to trade and/or invest? Evaluate several options that align with your risk tolerance and goals before you get started:
Buy-and-hold investing: Buy-and-hold investors make purchases with the intention of holding their investments for a long time. These investors hold shares over a number of years.
Day trading: Day trading means that you take out a position and then close out of positions within the same trading day. You can use a number of different strategies to target stocks (including insider selling) to determine the stocks to trade.
Position trading: Position trading uses longer-term charts compared to those who day trade, including monthly charts, to help you anticipate what will happen with the stock. Your trade might last days or weeks.
Trend trading: Trend traders look for successive higher highs or lower highs in order to identify the trend of a security. Trend traders benefit from the ups and downs in the market and can also take insider selling and buying into account.
Swing trading: Swing traders trade based on short-term price changes. Swing traders trade frequently over a shorter time period and take larger positions. As a new trend tries to establish itself, traders see the price volatility and make their move.
No one method is better than another, but you must choose an option with which you feel comfortable. You can also invest and trade at the same time or choose a different trading method altogether.
Step 2: Open a trading account.
Do you already have a trading account? If not, choose the correct trading platform and fund it. Look into all aspects of several platforms before you choose, including the fees involved, the platform that you want to use and all the other factors that will help you become a successful trader or investor.
Step 3: Start trading.
Once you've set up your trading account, try paper trading before you start using real money. Paper trading lets you practice using fake money. If you've never traded before, you may want to spend a chunk of time learning how to trade on a paper trading account.
Once you're ready to invest or trade, steer clear of investing or trading more money than you're willing to lose.
Final Thoughts
It's a good idea to pay attention to insider selling because it indicates that a company's stock price may go down. However, don't use insider selling as the only tactic to identify the right investments that fit your needs.
Companies Mentioned in This Article
Compare These Stocks Add These Stocks to My Watchlist
Before you consider American International Group, you'll want to hear this.
MarketBeat keeps track of Wall Street's top-rated and best performing research analysts and the stocks they recommend to their clients on a daily basis. MarketBeat has identified the five stocks that top analysts are quietly whispering to their clients to buy now before the broader market catches on… and American International Group wasn't on the list.
While American International Group currently has a "Hold" rating among analysts, top-rated analysts believe these five stocks are better buys.